#7 Tough Lessons in New York
"I am sad too. But you know I need to go on this journey. Trust in our friendship, okay? Maike smiled through her tears. "So we will see each other soon then?", she asked. And I just said "New York City, baby!"
This is how, merely six weeks after I had left Germany, I found myself at JFK airport. I had flown the sweet short hour from Nantucket and now I was waiting for Maike to arrive from Frankfurt. My joy and incredulity over the fact that I would see Maike and we would spend ten days in New York City made me feel like I was almost high. I was so excited that I asked the airport lady about a thousand times if this really was the area where the passengers from Frankfurt would arrive.
As Frank Sinatra sang "These vagabond shoes, they are longing to stray right through the very heart of it, New York, New Yooork!" Oh, our vagabond shoes strayed through the heart of it, alright! We walked all the way from midtown down to Battery Park. We took the ferry to Ellis Island and cried at the "Kissing Point", where for decades long-awaited reunions of old and new immigrants happened. We biked (yes, biked!) through the craziness of Fifth Avenue. That night we had found the coolest, secret underground jazz bar. We asked a woman on the street if she knew a cool bar in the area. Following her instructions we took stairs down a dark passageway which led to a back door. Stepping through that door felt like stepping through time. Everything in this dimly lit place looked like we were in the sixties, including the people! There was a live band playing smooth and harmonic jazz and cocktails were served in porcelain tea cups. The next day over a dumpling hangover "breakfast" in Chinatown, the previous night was so surreal that Maike and I were seriously wondering if last night really happened at all.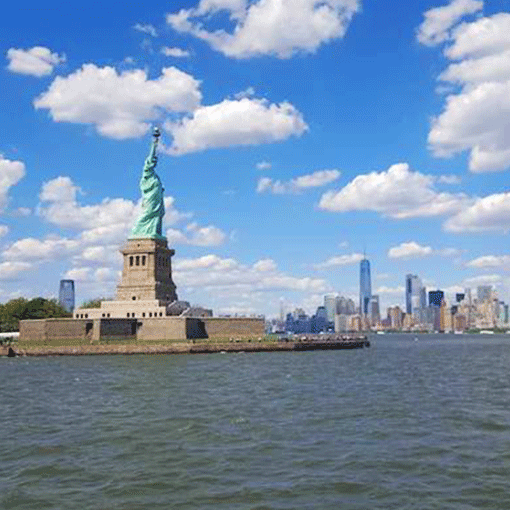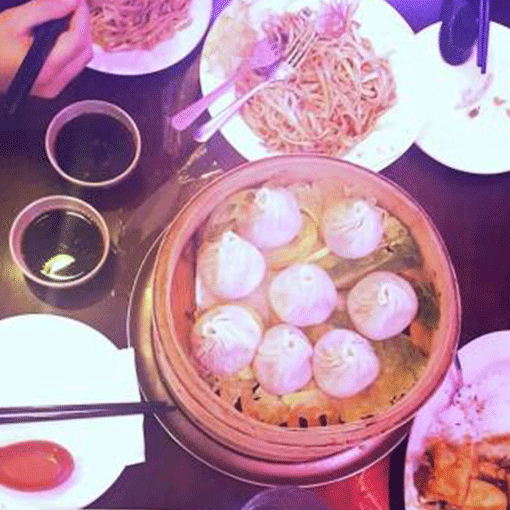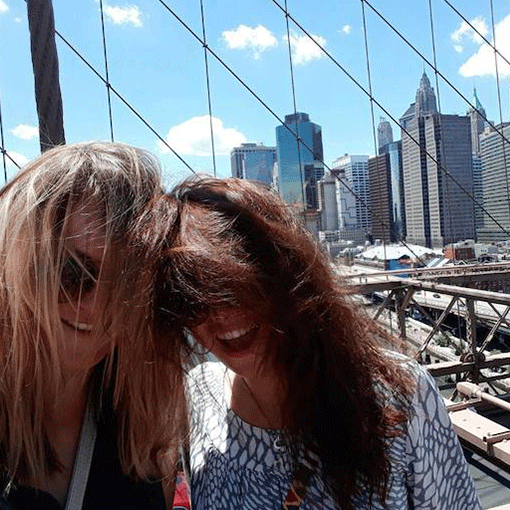 After one long hot day we headed to the Mexican restaurant that my uncle Josef, a native New Yorker, had recommended. We were exhausted and I was starving. When we finally found the place, something would happen that Maike and I still talk about as "the place where we learned to fight". There is something you have to know about me, when I am tired and hungry, you, if you are close to me, must take heed! Maike is a master in boldly and sweetly trying to get the best out of any given situation. That is how, when we arrived at the restaurant and the outdoor seats were full, I did not give it a second thought and walked straight in, ideally to order food before we would sit down. Maike, on the other hand, was already talking to a waiter to see if we could wait to get a table outside. This is when I exploded. "Why do you always have to do this?! Can you not FOR ONCE be content with a not ideal table for crying out loud?!" Maike was shocked by my outburst and did not quite know what was happening.
After quietly eating our vegan burritos, Maike broke the tense silence. "I am sorry, I did not know you were so hungry. You did not communicate that. How could I have known?" Hm. Good point. My anger dissipated. "That's true. I feel so connected to you that I just assumed you knew what's going on inside of me. I am sorry." I said. She smiled. "I am sorry too, I should not always argue to get the best, I know it can be annoying." I smiled, well yeah, annoying and advantageous, look at us sitting outside now! 
"Surrender to what is. Let go of what was. Have faith in what will be."
― Sonia Ricotte
This was not all that happened during those ten days that would change my future. Toward the end of our adventure in NYC, we took a walk in Central Park. Maike asked me how it was going with my now long-distance boyfriend David. I hesitated. The painful unspoken truth that I had tried to ignore since I left Germany was that my feelings for him had transformed into affectionate friendship. Maike looked at me with a blend of worry and confrontation on her face. "Hey, what's happening?" At that moment, standing at the great lake in central park, it suddenly started to rain and I started to cry. Sobbing, I said "Everything has changed." This was so hard because I did not want to end my relationship with this funny, humble, kind, intelligent man. David and I had plans to meet in Canada this fall to do work and travel together. But it just did not feel true anymore. Maike hugged me tight as the rain fell down on us.
This is how, upon my return to Nantucket, I ended my relationship with David, via Skype. Breaking up is always cruel. But via Skype? And yet we were six thousand kilometers apart. What could I have done? I tried to find the clearest and kindest words I could, while crying during the entire conversation. He, of course, had felt it coming. The accepting, calm and even gracious way, in which he responded, was incredible.
Learning how to flow also means learning how to let go. Letting go of my own righteousness in a conflict with a friend, and even letting go of romantic relationships. Letting go is deeply painful. And yet, simply because something is painful, it does not mean that it is wrong. That's the confusing thing, that the only certainty about life is change. We can resist it or we can flow with it.