What does it mean to be open to the opportunities that life offers? In my experience, it can mean things like leaving a soul sucking career, going out into the world to seek answers and truths, and…abandoning all your plans to fly to Mexico to meet a man instead.
After an amazing fall working on the organic farm in Montréal, and learning many things about soil fertility and growing produce, I was again faced with the question: What's next? Winter was approaching Canada quickly and my work contract had ended. "When in doubt, follow your heart", isn't that how the saying goes? Well, my heart was sending me more and more intense signals about what it wanted. It wanted Mateo. I'd met the open-minded, funny and eloquent Mateo through my best friend Maike. We had met at a party and connected. That had been over a year ago and since the encounter we had developed a strong bond that we lived out as friends.
After breaking up with Germany and David, I found my heart craving Mateo. I would think of him as I stood for hours and hours in the greenhouse of the farm, planting seeds and looking over the fields. It was clear from the way we texted that we both wanted to see each other and explore that natural bond we had. As it so happened, Mateo was planning to spend the entire month of October traveling in Central America by himself, or so he thought.
I was free. I wanted to see him. Since I left Germany six months earlier, I had worked almost non-stop. So why not, I thought? On a whim, I bought a ridiculously cheap one way ticket from Toronto to Cancun. During my last night in Canada I found myself in a hostel in Toronto, lying wide awake. Was I really going to fly to Central America tomorrow morning? Will I really meet Mateo there? This was all too crazy. Panicky, I kept checking my flight again and again. Was this real?
The plane took off during sunrise. I had never felt so giddy in my whole life. A few moments before landing in Mexico, we flew over turquoise blue water and lush green jungle. When I set foot on solid ground again, the tropical heat hit me and so did the reality of my really being in Mexico. Sweaty and bedraggled, I waited for Mateo at our meeting point with a heart that wanted to jump out of its chest.
And then there he was with his cheeky smile and a hippie tank top. Then there we were panting in the shower of a rundown shopping mall that was turned into a hostel. 
Sitting at the beach, sipping a cold beer I looked at him in wonder and realized, he too, longs for a free and unconventional life. I had already stepped out of the hamster wheel of society, he was still in it. We connected on so many levels, him being a meditation practitioner, environmentalist and an animal lover. He had piercing green eyes that seemed to be able to see deep into me. He was also an amateur magician, and his tricks and great sense of humor would make me laugh until my belly ached. He was passionate about the things he cared for and I found that so alluring.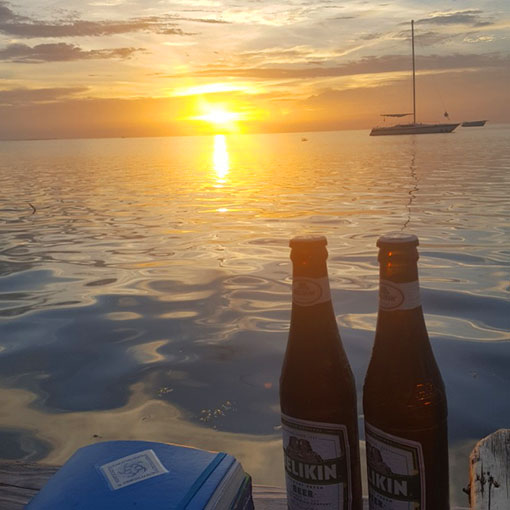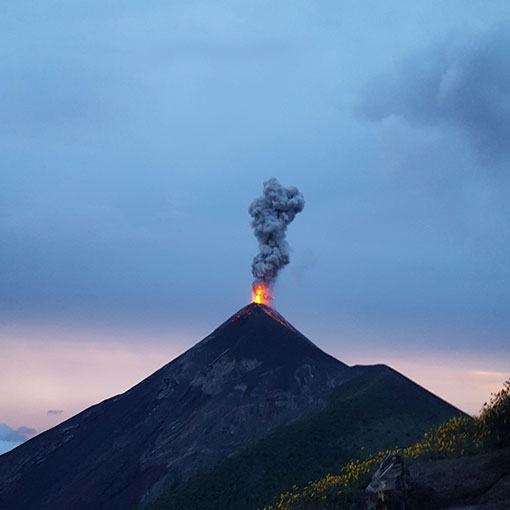 We were so in love that even people on the street congratulated us for our romance. For a month, Mateo and I explored Mexico and each other. We hitchhiked, climbed on Mayan pyramids and slept in the jungle. On my 24th birthday we got high on the beach and danced improvised salsa in a bar, had sex in the ocean and on roof tops. We swam in caves and climbed a 4000 meter tall volcano– It was the most physically demanding and rewarding thing I had ever done. We were living day by day, meal by meal and adventure by adventure.
I was not only in love with him, I was in love with the people and the nature of Mexico and Guatemala. Everything was so colorful, warm and flavorful here. We were so immersed in our surroundings that we lost track of time. The route we had planned from Cancun through Belize and Guatemala and up to Mexico City was not doable traveling via land in the time that Mateo had left until his return flight to Germany.
"Always stay true to yourself and never let what somebody says distract you from your goals.
"
― Michelle Obama
This is how we found ourselves flying to Mexico city on Los Dias Dos Muertos. The day of the dead is one of the most important holidays in Mexico. Our wonderful couchsurfing host Maré took us into this gigantic urban jungle for traditional festivities. I tried to be present, but my heart was heavy. As magical as the last month Mateo and I shared had been, there was one question that made us fight late at night. What do we do with our love? He was living in my hometown in Germany, the very place I left. He wanted me to come back with him. I wanted to be with him, but I didn't want to go back there. Not now. The night before his return flight was filled with tears. The next day I found myself alone in this foreign apartment in Mexico city and in the fetal position on the living room floor. The pain in my heart felt unbearable and tears had stopped offering me a release. Was I too egocentric? I wanted to continue this journey but doing so meant  hurting him in the process. Was there something wrong with me? Perhaps deep down I simply felt that at this moment a relationship was not enough for me to feel fulfilled, that I had embarked on this journey to search for a deeper meaning in my life and I had not found it yet. My heart was aching but beneath that, my gut was telling me to continue my journey.
When we go with the flow, we abandon plans, we fall deeply in love with people and places, and we allow life to challenge us. We are challenged by having to discern and decide when it is wise to surrender to the flow, and when it is time to steer. Our job is to learn how to listen to our soul, to that calm and intuitive knowing. It is the guiding force that lies beneath the choppy waves of feelings. We may not always like what we know deep down. And yet, if we want to live a life that is uniquely true to ourselves, we have to  make the courageous choice to trust this inner knowing even (or especially) when it hurts.