#15 Brother, bathrooms and bonding
"Stop playing around!" I reproached my brother Kilian on the phone. He had just told me that he was planning to visit me in Central America for Christmas. Because he's not the biggest travel enthusiast, I thought he was messing with me. "I am not joking, sis. I am arriving on the 24th."
And so it happened that after a difficult and exhausting month in which I had longed so much for familial warmth, I was about to receive one of the best Christmas presents of all time.
The joyous anticipation of seeing my brother filled me with energy. It was this energy that made the normally exhausting two day journey from Guatemala to Mexico, a flow experience.
Waiting at the airport, I was filled with adrenaline and incredulity at the prospect that soon, my brother would actually arrive here. I started to grow nervous as I watched family after family dissolve into tears by the announcements of cancelled flights. I felt desperate, so I started silently pleading to a higher power "Please. Please let my little brother arrive in one piece." And then BING! A text message lit up my phone. It was from Kili and it read "landed". After a confusing search and an injudicious run through an area of the airport that turned out to be off limits, I found myself in his arms. The relief and joy I felt are hard to put into words.
And this was the beginning of three wonderful whirlwind weeks backpacking with Kili through Mexico and Guatemala. Let me try to capture some of the experiences and life lessons for you:
Never go traveling with Kili anywhere near an ocean, lake or any other body of water if you want to spend much time with him. He turns into Neptune himself and spends most of the time in or under the water.
If you want to turn a family member or friend into a travel enthusiast, choose means of transportation and accommodation mindfully. Not everyone finds sleeping in a tiny hut in the jungle or mini-bus journeys for twelve hours exciting. 
Chicken-Egg question! What was here first: The speed bump or the taco stand next to the road? (Insider joke, sorry.)
Here's a beautiful idea: creating lists for your future children with all the things from our childhood we would like them to experience, such as books, games and traditions.
The importance of keeping an open mind, especially in discussions about spirituality versus(and) science. Some of those ended with fuming heads and righteous and frustrated silence.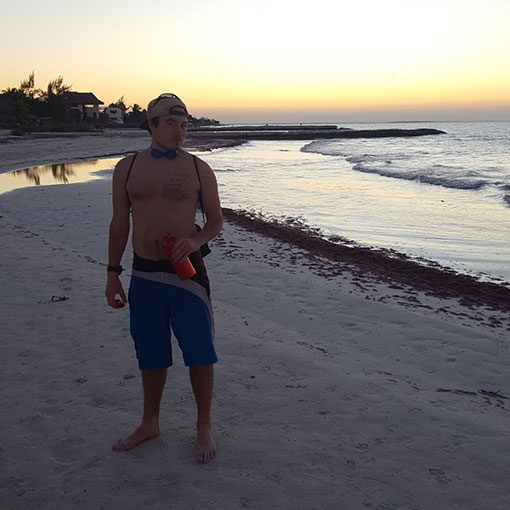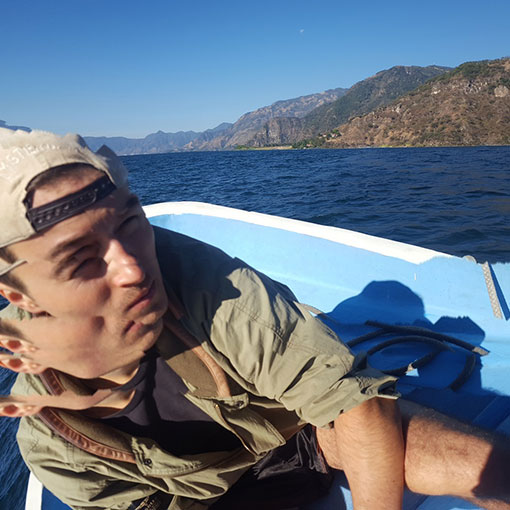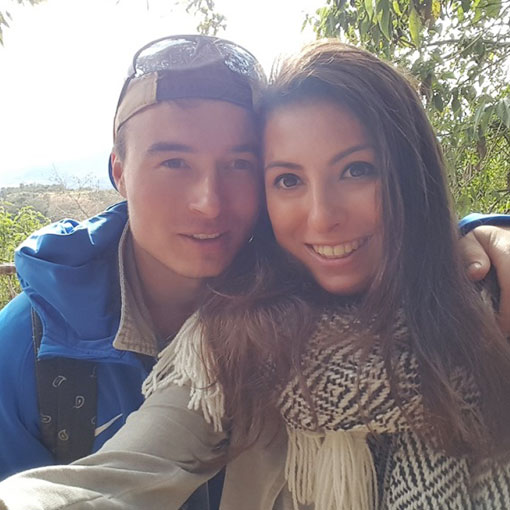 And then there were particularly … special experiences we shared. On day eight of our trip, Kili got sick. But I mean really sick. He had a violent stomach flu that sapped him of his energy and his body refused to accept any food or liquid.  I sat there in the bed of the little room, holding his heavy and feverish head all night. I remember wondering "Is this how it is like to be a mother?" The depth of worry and care I felt for his well being was an unprecedented experience for me, almost instinctive and primal in their power.
The last week of our time together was mostly spent, I hate to say it, in the bathroom. After Kili's recovery we had made the mistake of celebrating in a small restaurant with beer and Indian food. Shortly afterwards our bodies were attacked by violent stomach cramps. In intervals, Kili and I were climbing as fast as humanly possible out of our hostel bed cabin to run to the bathroom. At some point, we were so drained, in the truest sense of the word, and weak that this happened: on yet another trip to the bathroom, my legs almost gave way. All around me the walls of the hostel were dancing and contorting. After a short pause of shameful consideration, I said "Listen, I am afraid I will faint in the toilet cabin. I would be locked in and unconscious. Would you be willing to…?" I couldn't even finish the sentence, I was so ashamed. Without skipping a beat, he smiled, and just said "No probs."
"Vulnerability is what I try not to show you but look for the most in you."
― Brene Brown
As funny as it sounds, this unbelievably embarrassing situation of my brother holding my shoulders while my body emptied itself furiously in a toilet, did something. When I held my brother's feverish head all night long, that too, did something. Those situations exposed us to the raw vulnerability of who we are beyond shame and ego. In Brene Brown's words "Vulnerability sounds like truth and feels like courage. Truth and courage aren't always comfortable, but they're never weakness." It took a cargo ship of courage for me to ask Kili for help. But the truth was, I needed it. It was uncomfortable. But later, there was a sense of gratitude, that I had the courage to tap into vulnerability.
Kili and I embarked on an adventure together. Our bond was tried and tested and that made it more resilient. The fabric of our bond was sewed together more tightly. As Kili said on our farewell: "After this, no matter what difficulties the two of us will face, we'll overcome them."