#14 Privilege, Human Connection and a New Dawn
After experiencing the woes of despair and depression, I opened myself to being of service to others. I kept the realization that had lifted me out of darkness at the forefront of my mind: True fulfillment and meaning can only be found beyond my own self-interest and satisfaction. So here I was, on my way to a Mayan village somewhere in Guatemala.
Ingrid, the retired teacher from my hometown in Germany who I had serendipitously met in Guatemala, was preparing me for where we were going. She told me that "the village we are about to arrive in is nothing like the rich and colonial city of Antigua. This Mayan village is economically very poor." I took a deep breath trying to open myself to whatever I was about to experience as we were bumping along the windy roads.
As we walked through the village, I felt like I had been transported back in time. The fields were being tilled with horses. Corn was spread out on the road to dry. After a short walk Ingrid came to a halt "This is it." The house we were about to enter was a mix of corrugated iron and bare concrete. A beautiful woman in her thirties wearing a traditional Guatemalan dress with a beaming smile on her face opened the door. "Hello! Welcome! I am Vicky, the eldest daughter of Don Miguel, the founder of this organization." She said in fluent English.
On the first afternoon in this centre that is home to eight people from three generations as well as being a school and the head office of the NGO, I learned about their history. When Vicky was a child, she was diagnosed with a lethal heart illness. In this Mayan village, most children with severe illnesses die because the families cannot afford the cost of treatment. Vicky's father refused to give up. He travelled to Guatemala City where he knocked on every door in the rich neighborhoods, telling the story of his daughter and asking for help. Miraculously, a generous man who also happened to be a surgeon opened the door and agreed to take little Vicky and fly with her to the US so that he could perform the open heart surgery. The surgeon did all of this and paid for it out of his own pocket.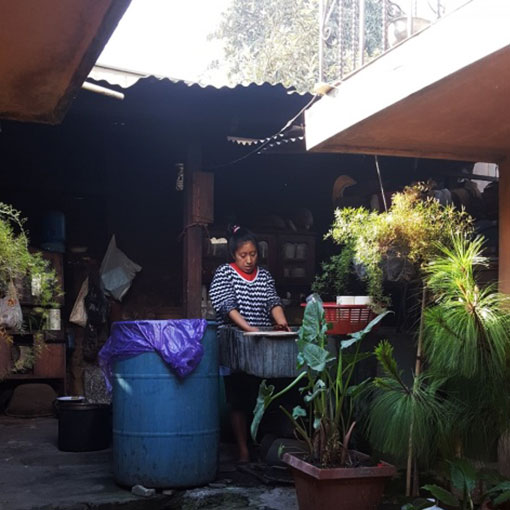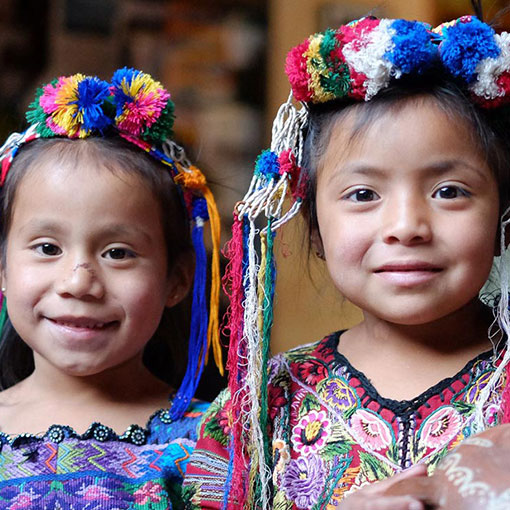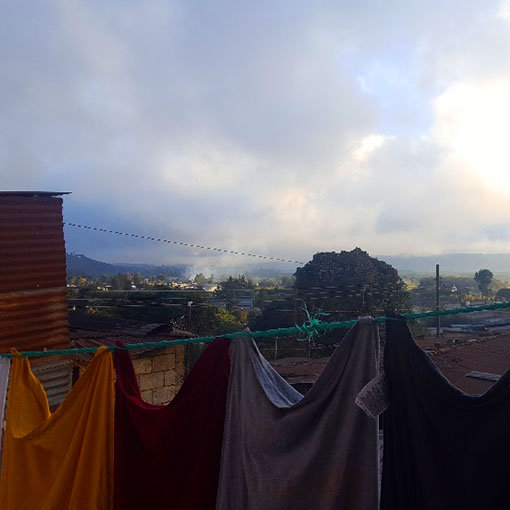 His young daughter's life was saved. Don Miguel was so grateful and moved by the generosity of the surgeon that he decided to make it his mission to improve the lives of the Mayan children in his village. This led to the creation of Nuevo Amanecer (New Dawn) an NGO that promotes the integral development of families in relation to education, mental health and the strengthening of future indigenous leaders in the community. 
When Vicky invited me to stay with them for a while, I agreed. I felt so inspired by this family. During the days I was immersed in being part of everyday life. I was crafting Christmas decorations with the school kids and listening to Vicky and her sister talk to the student's parents about the importance of unconditional love and compassion. In the evenings I joined the family as they walked to church. Vicky's two sons took each of my hands as if it were the most natural thing in the world and until today, this is one of my most treasured moments. 
I remember one night when I lay awake in the bare concrete guest room. As my mind tried to process and integrate all those new experiences, I suddenly slid down into a spiral of shame. The contrasts of the world in which I had grown up to this world were just too stark. The unfairness of it was overwhelming. Why is it that I get to be born in one of the safest and richest countries in the world? Or raised lacking nothing in an intact family and warm household? I felt guilty and heart broken. 
I could not sleep that night, I was paralyzed by a prison of shame. In the early morning hours, when the roosters started to cry their morning song, this sentence floated up into my awareness: "Do what you can, with what you have, where you are." 
As I stepped out of the room and looked over the roofs of the little village, I set a firm intention to try that and help where I could. I realized that my Mayan friends were doing exactly this every single day and this is how they generated such a positive impact on the kids and the community.
"Deep human connection is the purpose and the result of a meaningful life – and it will inspire the most amazing acts of love, generosity and humanity."
― Melinda Gates
When I asked Vicky about how she finds the strength to be such a wonderful mother to her sons and such a great teacher for the kids in those difficult circumstances, she took a long pause and said, "This is my task, Sarah. I am grateful every day for what I do have and that I can support the children. Sometimes it is hard to have enough energy but then I remember why I do this and that helps."
And maybe it is this openness of the heart and the mindset of putting the purpose first and then finding the ways to realize that purpose, that are the biggest lessons I learned from my Guatemalan friends. To be able to put the deeper purpose of love and support in the center, we need to do the inner work of self-reflection and empathy. We need to be aware of our privileges and our intentions. The most meaningful way to do that is to cultivate awareness without guilt. We do not know how this universe works, why we were born in a specific place and circumstance. What we can do is be aware of our position and do our best with what we have been given. Simply feeling bad about it does not serve anyone. Quite the opposite, shame paralyzes and guilt enlarges the gap of separation between us.
We need genuine human connection. We need to grow our circles of care beyond our direct family. When we open our minds and hearts to being of service, we will find ways to do so. It is even more likely that we end up being inspired by the ones we set out to help in the first place. This is the beauty of human connection beyond cultural or economical differences.